WOMAN BEHIND THE BRAND
Hey there, I´m Angel and I want to help you become the best version of yourself!
That life you dreamt of.
That you've been longing for. That you have been trying to get, but keep getting stuck. You know about manifestation. You've read all the books. Made vision boards. You tried as hard as you could to "stay positive". I'm sure it even worked to some degree. You also knew something was missing, it wasn't quite right. That spiritual bypass of positive thinking wasn't working for you. It never worked with me, either. This is why I developed True Self Manifestation.
Why I'm different from other coaches…
Mind Shifts are great and all but they only shift the conscious level. To make profound change that lasts, you need to get to the root, to the subconscious. I have the skills, trainings, and know-how to take you into your subconscious to evoke lasting change.
I've been there. Through hell and back and I've learned so much along the way. But this isn't just about my personal experience. I have years of trainings to back it up. I am a licensed clinical social worker, certified clini-coach, and have been a trauma-informed psychotherapist doing trauma therapy for years. I am trained in Internal Family Systems, EMDR, and so many more therapy models, plus hypnotherapy. All of this gives me an eclectic skill set that I use intuitively.
I have a ton of experience with helping others build self-worth, set healthy boundaries, effectively communicate needs, and build trust with themselves. I also have years of personal experience with manifestation, spirituality, all things woo. I take my personal experiences along with my professional expertise to build TSM. I consider myself an IFS-informed Transformation Coach. And now I am sharing all of this with you!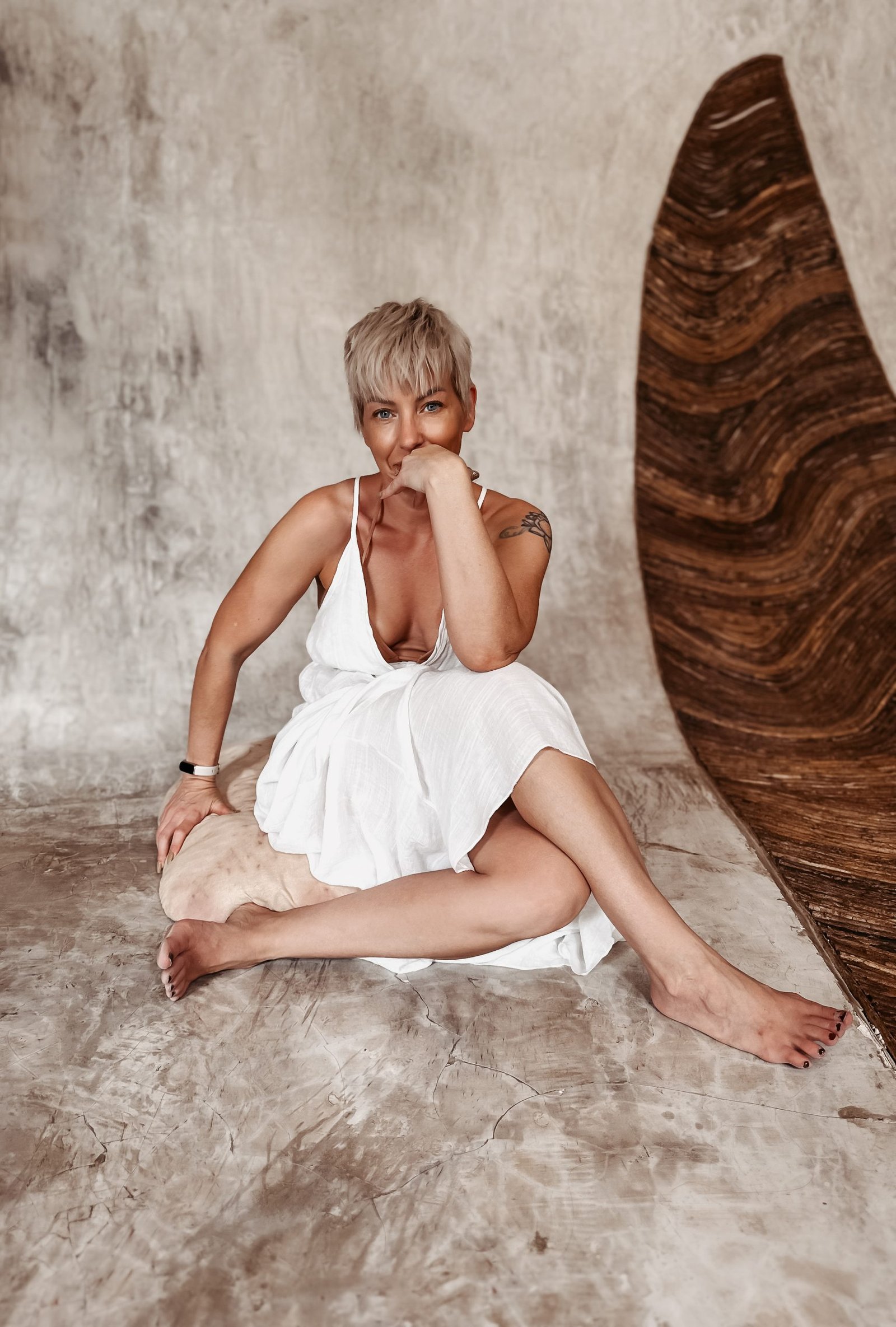 MY STORY
transformation coach for purpose-driven woman
I was an alcoholic…
I thought that once I quit drinking in May 2012, the skies would open up, sunshine would envelop me in its warm rays, and birds would perch themselves on my shoulder singing happy songs in my ear. That was farthest from the truth. I thought alcohol was the issue. It was the problem I needed to fix. So, I did. But it didn't work. It didn't fix what was actually going on inside. I was still miserable. I was edgy, irritable, depressed, angry, and I still hated myself. I was sitting there asking the Universe why? Why was I still in the depths of self-loathing, depression, anger? Why didn't anything change? That day, and quite a few other days, I contemplated giving up sobriety. Just drink one more time to numb it all out.
My perfectionism, people pleasing, self-doubt, and limiting beliefs
didn't disappear when I put down the drink. As a matter of fact, those parts of me got louder. And all those hurt parts of me were coming to the surface. The buffer of alcohol was no longer there. At least with the alcohol, I could sometimes quiet those parts or quiet the part of me that was hyper-critical. Now this critical part was front and center demanding my attention. Did I mention I was feeling miserable? I didn't feel deserving of being happy or having a fulfilling life. I definitely didn't think I was worthy of one. These feelings ran deep to my core. "Just go back to drinking" a voice inside told me. But I didn't want to. I wanted to move forward. I was determined and a bit stubborn. I was going to do this. Even with this internal struggle going on. This war that was endless.
That's when I knew I had work to do.
I started digging deeper into personal growth, spirituality, therapy, and yoga. I dug up everything I could on inner child work, shadow work, and building self-worth. I later learned about Internal Family Systems and realized it had all these elements in one model. I started seeing a crack of light shining in. I learned how to work with the parts of me to end the self-hatred, negative self-talk, limiting beliefs and self-sabotage.
Then I spent so much time healing those vulnerable parts of me that were holding all of this hurt and pain. I had to look at the situations and events from my past that I tried for so long to ignore, dismiss, reject. The same situations and events that spawned my perfectionism, people pleasing, self-doubt, and limiting beliefs and my low self-worth. I went through the work with compassion for my younger self and then I was finally able to process it and let go. It was so uncomfortable. There were so many times I wept for my younger self. And there was so much gratitude for the parts of me that were just trying to help me navigate the world based on the things I went through.
I reparented myself.
By doing this internal work, I learned how to trust my intuition, my True Self, my truth. With each time I listened to my gut, to that voice, it got stronger, louder. It became my guiding force. Finally, I was able to trust myself. I was no longer held back by past programming and conditioning, limiting beliefs and self-sabotaging like perfectionism, people pleasing. That harsh inner critic became my cheerleader!
I felt worthy. Deserving.
During all of this, I got my master's degree in social work and was on track to the career I always wanted. That crack of light  opened up,  I was enveloped in its warm rays of sunshine, finally. I was seeing things in a new light; I was seeing myself in a new light. I could look at myself in the mirror and not cringe. I liked myself, I felt proud of myself for my accomplishments.
That's when things started falling into place.
Opportunities started pouring in. This is how I knew I was on the right path. That my intuition led me here. I felt empowered to take control of my life. My hard work and perseverance paid off.
Being a psychotherapist, my dream was to have my own private practice, which I now have. My other dream was True Self Manifestation (TSM).
The idea came to me like a download from the Universe after learning about Internal Family Systems (IFS). You don't have to scour the internet, read all the personal growth books, or the other things I did to cobble together my healing process. IFS is shadow work, inner child work, and learning how to align with your higher self all in one. And it's the premise for TSM. The premise to my healing journey. And TSM feels like the calling I never knew I was capable of until I was able to really see myself, see my fullest potential. And believe that I could.
I manifested all of this, and so much more. And I'm not done yet!
When I was in the grasp of my alcoholism, I never believed I could find self-compassion, love, acceptance, self-worth, and trust in myself. Even though my True Self always knew that I could, parts of me emphatically denied it for so long, tangled in past programming, conditioning, limiting beliefs, resulting in low self-worth. Working with and healing these parts was fundamental to my growth. Instead of numbing out, or rejecting, dismissing, and ignoring them, as I did for so long with my alcohol use.
This is when I found freedom. When I found connection with myself and with the Universe.
You don't have to be in the throes of addiction to have been where I was. We all get caught up in all the limiting beliefs from past programming and conditioning that keeps us stuck, disconnected, feel undeserving, and in low self-worth. That keeps us stuck in patterns of self-sabotage.
This disconnection prevents you from tapping into your True Self. It keeps you from your truth and straying from your rightful path.
My driving force with TSM is to guide other women to transform their lives. To manifest what you know deep down what you've always wanted. I want to help you break free from the past programming, conditioning, societal expectations, and norms, and limiting beliefs, that are impacting your self-worth. I want to help you to feel empowered, confident, and trust yourself. To learn how to tap into your True Self and co-create the life you've always wanted. The amazing life that small voice inside tells you to go for and believes you can have.
It's not a coincidence you're here.
Me in Tulum, Mexico. My happy place.
Beyond Boundaries: Confronting Your Limiting Beliefs-the Quiz
Limiting beliefs are universal, yet their impact varies greatly. Are your beliefs standing as gatekeepers or steppingstones?
Take our FREE quiz and embark on a transformative journey to challenge the boundaries of your beliefs
I´m obsessed with house plants
My guilty pleasure is reading fun witchy fiction
I love weaving textured wall art
I can´t live without lattes
WORK WITH ME
Check out my
newest offering!
Did you know I have this new amazing new e-course?
How to Manifest Without the
Self-Sabotage.
Want to Manifest- Love, Money, Career, but keep getting stuck?
Do you feel like you are looping through the same patterns?
Unable to find peace and harmony in your life?
Do you struggle with self-worth?
Toxic relationships?
These are parts of you that are working off past programming, conditioning, limiting beliefs, societal expectations, and norms. They are also sabotaging your manifestations.
This is not the Law of Attraction. This is not Spiritual Bypassing. This is getting to the root of what is sabotaging your manifestations.
This is based in science, using evidence-based therapy practices of Internal Family Systems.
Imagine being in full control of your internal world. Where you are Self-led. No longer an internal struggle going on inside to "do the right thing" according to everyone else. Instead, you do what is right for you. Imagine being surrounded by people that support you and not tear you down or expect so much from you without giving back. Imagine being in your worth and your manifestations start pouring in, effortlessly. This is magic! This is How to Manifest Without the Self-Sabotage.
Click the link below to learn more!!
We're going to make new discoveries, Gain awareness…
We're going to go down layers, tap into the subconscious mind and make new neural pathways so that you will be open to communicating with the Universe fully and co-create the life you were meant to have. It's going to be so F-ing worth it. Are you ready? Click the link above to learn more!
Did you know there was a Podcast???
Angel Minuto is a licensed psychotherapist and IFS-Informed Transformation Coach, discussing all things manifestation, and Internal Family Systems/Parts Work. Each week she talks about how you can use Parts Work to tap into your True Self and work with the parts of you that have been sabotaging and blocking your manifestations, and frankly, your life, due to past programming, conditioning, and limiting beliefs that they are holding onto. Learn how to build your self-worth from within, align with your True Self and the Universe, to manifest the life you've always wanted!
Click the link below! You can also find it wherever you listen to podcasts!