My favorite things for my manifesting!
I have to admit, I'm a sucker for a "favorites" list. It gives me ideas of things out there that I didn't know existed. I get to hear why somebody likes a certain product in particular. And I find these lists inspiring. So I thought that I would make a list of my own highlighting some products and things I use for manifesting!
For me, my manifestation practice involves a lot of tuning into True Self. And how I tune into True Self is through meditation and ritual. (I will expand more on rituals in another blog post, so stay tuned!) So some of the things on the list will be products for meditation as well as things I use for manifestation ritual. For me, it all goes together!
FYI: I'm not being paid for this and I am not affiliated with any of the products/businesses.
Manifesting favorites list:
Meditation Cushion
For me, this is something I didn't know I needed until I got it. But honestly, a meditation cushion helps with alignment, posture, and in a way reminds me that I'm sitting there for a reason. This meditation pillow in particular I found for. steal for $29.49 on Target (unfortunately it is sold out at the moment). The Node Fitness Zafu Meditation Cushion, 15″ Round Yoga Pillow has a 100% cotton cover and filled with 100% natural buckwheat hulls. I also love that it's an off white. I find natural colors soothing, which is why other brands with more colorful pillows were off putting to me. But if you are pulled to color, you do you!
Favorite Meditation App
Insight Timer App is amazing and my absolute favorite meditation app. Bonus that you can access a ton of meditations in the library for free. You are asked if you would like to donate after a meditation to the person who created the meditation. If you can, I would suggest doing this! The paid version is $59 a year! The offerings are abundant to say the least, which can feel overwhelming if you don't know what you want to look for. However, they have a great bookmark feature, so I suggest going in and browse around when you get some free time. Not when you are about to meditate. That way you will be ready with a short list. My favorites right now are the sound bath meditations. I love me a good sound bath!
Speaking of which, I experienced the most amazing sound bath while I was visiting Provincetown MA last spring. Which brings me to my next favorite thing…
Zaphir Chimes – Sunray
While in Provincetown MA. My partner and I found this amazing little shop Sole Luna Massage, Sound Bath Meditation, & Yoga Studio. We signed up for the sound bath and let me tell you, it was magical! Olivia, the owner was amazing. It really was the best sound bath I have experienced yet! And since I wasn't able to take Olivia home with me, haha! I opted instead to by these beautiful set of chimes that she used in the sound bath. These are all handmade in France, and the Sunray in particular is is meant to represent the summer season, providing a warm, golden, comforting glow with its sound. I'm a big fan of summertime and these chimes are especially nice throughout long winters. Don't mind my cat Simon in the video!
Crystals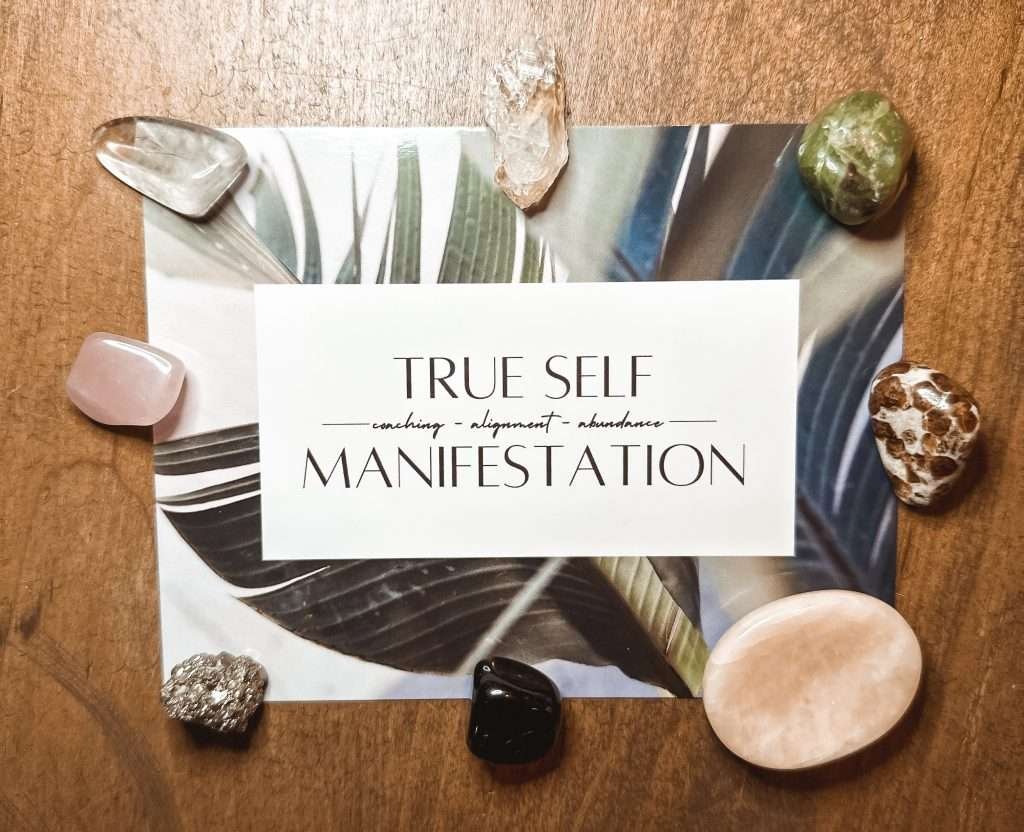 Another one of my favorite things for manifesting are crystals. Do you need them to manifest? No, not at all. But I am a visual person as well as someone that appreciates a talisman, or something that I can hold to keep me grounded and focused.
Crystals have an energy all their own and I have particular ones that I like to use for manifestation. Pictured clockwise, starting at top.
Citrine: Great for manifestation as it brings in abundance and cultivates the sense of taking action, perfect for manifestation.
Aventurine: Brings in prosperity and is associated with the heart chakra
Garnet Limestone: This crystal right here has True Self written all over it! It Helps with self-confidence, courage, and hope, to help you achieve your goals.
Moonstone: Helps keep you aligned with your True Self throughout manifesting.
Black obsidian: Clears blocks and negative energy while manifesting.
Pyrite: Attracts luck, success, and wealth. Let's be honest, there's nothing wrong with wanting to attract success and wealth. It all comes down to security, and if that's how you feel secure, go for it!
Rose Quartz: Manifesting love, not just with a partner, but that self-love we are often struggling with.
Clear Quartz: Amplifies or intentions and supports spiritual growth.
Announcement: New Course
Did you know I have this new amazing mini course? It's How to Manifest Without the Self-Sabotage. This is how you uplevel your manifestation practice!
Do you want to continue sabotaging your manifestations? I didn't think so.
Discover where your self-sabotaging comes from, why it blocks your manifestations, and what you can do to stop it for good.
I know you want to be successful with your manifestation practice. You feel called to manifest everything you want!
However, parts of you have picked up limiting beliefs and behaviors throughout your life that prevent you from connecting with your True Self. There is a lot of fear, judgment, past programming, and conditioning, taking a toll on your self-worth. This prevents you from being in alignment with your True Self.
This is why your manifestations aren't coming through.
to manifest everything you want, you need to be in our worth, and in alignment with your True Self. Then you can connect with the Universe and manifest! Find out how Here!!
Links to some good stuff!
Free Guide How to Tap Into Your Intuition
Take the quiz! Find out what part is blocking your manifestation.